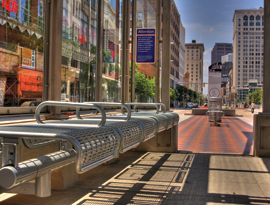 How to use this Action Guide
Why build MITOD
Building compact, mixed-use communities within walkable distance of transit, a concept known as transit-oriented development (TOD), can provide a range of benefits including increased transit ridership, reduced regional congestion and pollution, and healthier, more walkable neighborhoods. Neighborhoods with a mix of both affordable and market-rate housing can also provide many benefits, such as reducing income segregation and providing lower-income residents with opportunities to move up the occupational and social ladders. Mixed-income, transit-oriented communities can reap synergistic benefits, including truly affordable housing, stable transit ridership, broadened access to opportunity, workforce stability, and health benefits. Learn more on the What is MITOD page.
Purpose of the Action Guide
This guide helps helps in implementing MITOD in a particular station area, though it will ideally be used as part of a broader regional, city, or transit corridor-based planning process. When the steps of this Action Guide have been completed, users will possess a dataset that provides insights into the particular housing needs, challenges, and opportunities in their community. They will also better understand which parts of the housing equation they should address to promote MITOD. There are numerous policies and programs that can aid a community's efforts in producing a mixed-income transit district and this guide will introduce people to a list of tools that may be appropriate for their situation.
Who should use this Action Guide
The Primary Audience for this Action Guide is the local planner seeking to update planning policies in light of new transit station implementation. Though targeted at planning professionals, the guide should also be useful for decision makers, community advocates, and community-based organizations that are looking at mixed-income housing and TOD development in their area.
Users new to MITOD: For jurisdictions that have not fully considered MITOD in their planning practices, the MITOD Analysis section of this Action Guide can serve as the basis for a new analytical component of the station area planning process. The analytical framework is appropriate for a General/Master Plan update, the update of a Housing Element, Specific Plans for transit zones, transit area Overlay Zones, or for transit-related Redevelopment Areas.
Users familiar with MITOD: Some jurisdictions already have planning processes that incorporate MITOD. This guide may help those jurisdictions incorporate new process components, analytical techniques, or MITOD-focused policies into their process. This guide will also complement existing processes by expanding the MITOD knowledge of local stakeholders.
Planning for MITOD
The Plan MITOD section of this guide helps identify the actions that will help achieve MITOD goals in a particular station area. It assumes an inclusive planning process and in which following steps will be taken:
Collecting & analyzing data: Collection and analysis of data must include communication that allows process constituents to reach objective conclusions about the actions that should be taken to achieve MITOD goals.
Coordinating stakeholders: A stakeholder can't implement MITOD working alone. Coordination among and within groups of stakeholders will be essential.
Conducting community engagement and involvement: Planning and investment in MITOD needs to be something that happens with communities, rather than to communities. Early involvement and engagement throughout the process to understand local and regional visions is critical.
Promoting planning and policy reform: Local, regional, and state-level policies need to be shifted to take account of transit proximity and support the emergence of transit-oriented neighborhoods. Policies and programs from local zoning codes to state economic development incentives should be assessed for how they can support transit and MITOD.
Guiding infrastructure and development investment: Capital investment for transportation and development, both public and private, should recognize the MITOD opportunities and work to realize the potential of MITOD.
Resources for Data Collection and Analysis
Accurate and timely data are crucial for creating successful MITOD plans. For the analysis component of this Action Guide, two of the most valuable resources for users will be the US Decennial Census and the American Community Survey (ACS).
Until 2000, all demographic data including population and socio-economic characteristics were collected through the Decennial Census. Starting in 2010, however, the collection of population data (e.g. age, race, gender, hispanic origin, number living in households, tenure, etc.) and socio-economic data (e.g. incomes, poverty status, education, occupation, employment status, home values, etc.) were separated into two different programs. Socio-economic data will now be collected yearly through the ACS based on a statistically significant sample of the population. As a result, it will be important for users of this action guide to be familiar with both the Census and the ACS. For more information on differences between the Census and the ACS visit the Missouri Census Data Center.
Components of the Action Guide
This Action Guide is comprised of two components.
Analysis - A community assessment focused on Opportunities, Strategies, and Existing Conditions. In each analysis section, users will answer several key questions related to the population, community stability, real estate market, development capacity, and existing housing of station area of interest. Based on these questions, the guide helps users categorize the affordability issues and opportunities in the station area. MITOD-related strategies are then recommended for various station area classifications, and are downloadable as a "package of tools" reference document for the user.
Tools - A compilation of MITOD-related strategies and the policy tools/programs/processes that may help achieve each strategy. This section describes the tools and provides case studies and references to help the user learn more.
Identifying the study area
The Action Guide assumes that users will be focusing on a "transit station area" or "transit zone", defined by the area within a ½-mile radius of a transit station. While written for the ½-mile radius, this methodology can apply to any user-defined, transit-served area. The planning process being undertaken by a jurisdiction may focus on more narrow areas (e.g. a redevelopment zone) or on larger areas (e.g. a corridor-wide plan).
It is not important if the half-mile radius does not apply to the analysis. In fact, most units of analysis, such as census blocks, do not conform to a perfect radius. The study area should be defined according to the needs of the specidic situation and remain consistent in the data gathering, analysis, and output.
Playing accordions and tabbing through the steps
Content on this website is organized in elements called "accordions" and "tabs." Below is an example of accordions in their closed state.


Clicking on the title of an accordion will reveal its content as shown below.

Each accordion comes with an "Open All" button. (See image above.) When you click on the "Open All" button, all of the accordion content is revealed. Do this before printing the page. Clicking on the "Close All" button returns the content to its default state.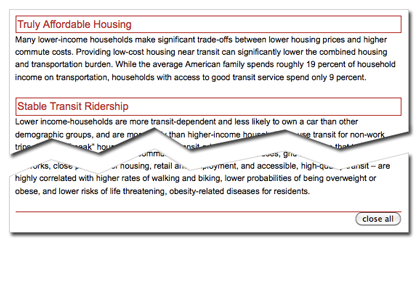 Some content is organized using tabbed panels as shown below. When you click on a tab you reveal the content in the tab.


On pages where content is organized in tabs, you will find an "Open All" button in the right column. (See image above.) Use this button to reveal all content, including any accordions. Clicking on "Print This Page" will open everything and bring up a printer prompt. Clicking the "Close All" button returns the content to its default state.