Return to Strategies
Know of an excellent tool
or case study? Let us know
at
info@mitod.org
Development Agreements
Development agreements are contracts between local governments and developers that guarantee long-term planning approvals for a project for a certain number of years (even if zoning policies change at a later date), in exchange for specific public benefits from the developer. Affordable housing can be one of those benefits. Development agreements work best for sites with long-term development timelines and multiple stages. In these situations, the added entitlement certainty provided by the agreement is especially valuable for the developer, and may therefore be worth the inclusion of affordable housing.
Potential components of development agreements
Constructing affordable housing in the building envelope
Constructing affordable housing offsite
Provision of transportation demand management services
Constructing traffic calming infrastructure
Contracting services at living wages
Provision of local area shuttles
Funding area-wide parking studies
Conducting annual transportation demand management assessments
Constructing and up-keeping public open space
Constructing fire, police, water, sewer, transport infrastructure
Funding job training
Case Studies
Portland, Oregon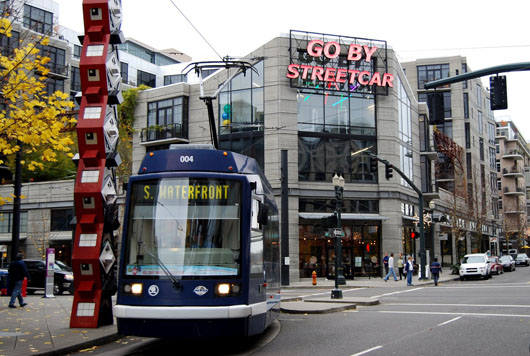 Oregon law currently prohibits municipalities from adopting inclusionary zoning ordinances that mandate construction of affordable housing by developers. Nevertheless, when the City of Portland Development Commission (PDC) looked to develop the River District Urban Renewal Area, which encompasses the transit-rich Pearl District, in 1994, one of its goals was to encourage new housing development that reflected the income distribution of households in Portland. Therefore, the PDC entered into a development agreement with the master developer, Hoyt Street Properties, to build nearly 7,500 units with the following housing target goals: 33% upper income, 20% middle income, 20% moderate income, 13% low income, and 14% extremely low income. Despite the fact that moderate and low income households were still underserved in the Pearl District as of the latest housing report in 2006, overall PDC considers Hoyt compliant in meeting a very detailed mixed-income housing goal.